Jim Lockwood
Jump to navigation
Jump to search
Jim Lockwood

Nationality
American
Education
Law Degree
Alma mater
Notre Dame
Years active
2017
Known for
Hosting The Jim Lockwood Show, getting trolled by Bimmers
Home town
South Bend, Indiana
Jim Lockwood is a Conservative Talk Radio Show host who is also blind. He had a short lived Facebook/YouTube show called The Jim Lockwood Show that featured live call ins from the audience.
About Jim
(Except taken from his website)
I lost all my vision during my childhood. Yet, whether it's downhill skiing, graduating law school at the university of Notre Dame in 2011, becoming an attorney, or getting on the radio, I am a testament to the fact that in America, anything is possible if you put your mind to it.
More and more it seems as if the American dream is slipping away. Buffeted by the headwinds of rising living costs, overwhelming student loans, government regulations, and mind boggling deficits, it is clear the ship of state is drastically off course. All the while, the crooked media and do nothing politicians are complacent with focusing their efforts on the personal destruction of President Trump. Simultaneously Fox News consumes its time with calling millennials like me lazy.
If you too are sick of the state of affairs in our country, tune in as I rear end the dry by media with a dose of common sense. Because, despite being blind, unlike too many of our liberal fellow citizens, Jim sees what is going on in Washington. The Jim Lockwood Show: Where the blind #FightTheBlind.[1]
The Jim Lockwood Show
Jim began his online show sometime after the 2016 election of Donald Trump, in contrast to what he described as fake Conservative radio hosts (most notably targeting Rush and that one black guy).
Jim vs The Toolbags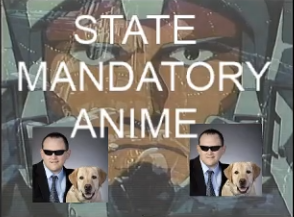 Jim came to the attention of WTT during a particularly rowdy night of pranking calling lame YouTube call in shows. His gimmick of being annoyingly right wing and blind was easy to exploit, with Duster calling in and rambling for nearly an hour about this insane Reconquista ideas and Taylor leading him on a wild goose chase before suggesting America needs State Mandated Anime viewing.
Links
Jim Lockwood on iTunes
Jim Lockwood on iHeartRadio
Jim on Twitter
References