DISTRACTION
Jump to navigation
Jump to search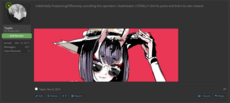 DISTRACTION was a PvP guild on Lightninghoof US. They were lead by a man known as Deathstaker who primarily had them do Random Battlegrounds.
Trolling A Cancer Patient
In the early days of COMMUNISM on Lightninghoof, Shelarahn, Pigeon, and Prude came upon an alleged Dutchman named Xjxjxjxjxjx, who claimed he was a cancer patient living in Florida. Weirdly enough, though later a trend, the took to Pigeon immediately, believing him to be a girl. Pigeon continued to lead him on for some time in game chat.
COMMUNISM Infiltration
Shelarahn tasked Nuggs with infiltrating the guild in October of 2013. As COMMUNISMs only real PvPer, he was an obvious choice and was quickly accepted. The intel was scarce, mostly just mindless small talk and the guild attempting, and failing, to PvP. After a few weeks of nothing, Nuggs got a recording to Deathstaker shitting himself during an RBG. Shelarahn considered this victory enough and called off the opp not much later.
Gallery