Discord
Jump to navigation
Jump to search
Discord
Developer(s)
Discord Inc.
(Originally Hammer And Chisel)
Initial release
May 13, 2015
Written in
JavaScript, React, Elixir[1]
Operating system
Windows, macOS, Linux, Android, iOS, Web browsers
Available in
27 languages

List of languages

English (UK/US), Bulgarian, Chinese (Simplified/Traditional), Croatian, Czech, Danish, Dutch, Finnish, French, German, Greek, Hungarian, Italian, Japanese, Korean, Lithuanian, Norwegian, Polish, Portuguese (Brazil), Romanian, Russian, Spanish, Swedish, Thai, Turkish, Ukrainian, and Vietnamese

Type
VoIP communications, instant messaging, Videoconferences,[2] content delivery, and social media
License
Proprietary freeware
Alexa rank
128 (March 2019 )[3]
Website
discordapp.com
Discord is a proprietary w:freeware VoIP application and digital distribution platform designed for video gaming communities, that specializes in text, image, video and audio communication between users in a chat channel. Discord runs on Windows, macOS, Android, iOS, Linux, and in web browsers. As of 14 March 2019 , there are over 250 million unique users of the software.
History in the WIDEVERSE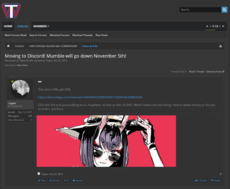 Discord was first used by the WIDEVERSE in October of 2015, moving the group from its long term platform of using Mumble and forums. Discord appealed to COMMIE CREW heavily because of its high resemblance to RaidCall, which incorporated text and voice all into one platform, but with the added convenience of mobile apps. Adaption was slow (mostly because of Pigeon, who wouldnt give up using Messenger) and never full accept by the COMMIES by the time GAY was formed and then subsequently BMW.
After the formation of BMW, the Bimmers used Woofingtons mumble until he himself moved to Discord in late 2015. After a few run ins with the admins of that discord, the inability to control the platform for themselves, and several spies trying to lurk the discord for info, the Bimmers moved to their own discord on March 7th, 2016.
Since that time, numerous spin off discords related to the WIDEVERSE have popped up (and more often than not, died within a short time).
See Also
References