PUBG
Jump to navigation
Jump to search
PUBG is a Battle Royal shooter.
2017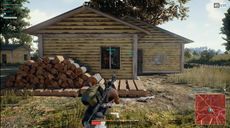 BMW, along with the rest of the world, became obsessed with PUBG in late 2017. Taylor and Jack spent many nights in July playing Duos while Jack sulked that he never won, with 4 man squads getting dubs just days later. Taylor and Amalilakab would often duo as well, bolstering the latters streaming career.
2019
The game VERY briefly was revived in 2019 with Taylor and Jack once again playing, sometimes joined by the latters wife, Cynthia.
2021
Again very briefly the game saw playtime with Taylor, Dizzy, and Lampshadez trying the game again after several years, brought back into the genre by recent WIDEVERSE obsession into Apex Legends.
COMMUNISM Era
Friend Zone Era
COMMUNISM Revival Era

World of Warcraft
Skyforge
Insurgency
Overwatch

BMW Era

Rust
Blackwake
Project Zomboid
Foxhole
Stellaris
iRacing
Overwatch

WTT Era

Guild Wars 2
Black Desert
Rimworld
Dauntless
Insurgency
Overwatch
Tom Clancy's Ghost Recon Breakpoint
Noita
Rec Room
Pavlov
Cloudlands VR Golf
Star Trek Bridge Crew

WIDEBOYS Era

Phasmophobia
Phantasy Star Online 2
Deep Rock Galactic
Satisfactory
Warhammer: Vermintide 2