Kimsemus
Jump to navigation
Jump to search
Kimsemus

Nationality
American
Years active
2015-2018, 2019-Present
Known for
Co-founding BMW, Founding GM
Alignment
Lawful Evil
Kimsemus is one of the co-founders of BMW and former leader of GM. He briefly led the Rust clan before a false EAC ban, and helped spearhead the short lived Conan Exiles venture.
History
Rust & Conan Exiles
Kimsemus was one of the primary Rust Goons stretching all the way back to the old Resource Hole DETROIT days. His real rise to prominence came when the Rust Goons congregated on Goon Playground, and he and several other long time Rust Goons formed up as GM. The clan quickly became the most powerful force on the server, leveling Goon and pubbies bases alike. This overwhelming force, however, had a negative affect on the server, as it was unable to keep pubbies around and even some Goons, such as FORD, would even find themselves leaving the server out of frustration. The idea to combine all the major clans of the server then was floated in the thread and BMW was formed. From the onset, Kimsemus was the defacto leader of BMW, however, 2 weeks into the project, Kimsemus was EAC banned. This coming on the heels of his ban from Psisyndicate, Kimsemus was mostly unable to fulfill his role as leader, and it fell to a reluctant Capitaler.
Kimsemus would remain in BMW, however, using an alt account, attending many of the more notorious raids in BMW history. However, as time went on, he would become more sparse in his appearances. When Taylor Swift took over BMW in early 2016 and founded the Discord, Kim was one of the first admins appointed. For years however, there remained an unspoken difference of opinions on who the true leader of BMW was. In 2017, Kimsemus would help spearhead the failed Conan Exiles project, and then the next year helped with the ArmA Revival.
Wonka Uprising & Aftermath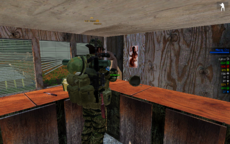 The difference of opinion regarding the leadership in BMW came to a head in the wake of the 3rd COMMUNISM CIVIL WAR, when Kim and his crew of gamers left with The Wonkas for Wonkacord. In the months following, Kim would find however that Goons at large were also in disagreement with him as to who the leader of BMW was. After Conan Exiles, many Goons had begun trying to slander BMW as an alt right haven led by Taylor Swift, and that reputation followed Kim around as he tried to use the BMW moniker, eventually forcing him to abandon it. Kim later vented his rage at Taylor during The Skirmish of Wonka Plains when he chided Taylor for ruining his and BMWs image with his "Alt Right" rhetoric.
Shortly after Taylor Swift and Kims encounter during The Skirmish Of Wonka Plains, Kim realized just how hard he'd been cucked. The group that he'd founded and then barely participated in, had been torn away from him by Notorious Hacker and Confirmed White Nationalist, Taylor, causing Kimsemus to cuck even harder to the Goons he had once declared his enemies. Making stops in SA Discord, Serious Overchill, and many others, Kimsemus began backtracking all his previous racist and right leaning commentary in the hopes that someone, literally anyone, would give him relevance. In the end however, Goons were too cucked and trannypilled to accept anything other than complete capitulation. This realization came sometime after Serious Overchill banned Kim for not being lockstep with The Trans Agenda. His 'I'm Sorry" tour eventually found its way to WTT on July 17th, 2019, but his campaign fell on deaf ears. However, BEEFY BOYS welcomed him with open arms and many bants about his shenanigans. (Mostly bants tho)
On October 2nd 2023, Kimsemus was banned from SCJP, WIDEBOYS, and BEEFY BOYS Discords for classified reasons. The bans were retracted a few days later except for the SCJP.
Leaders
Notable People
Flameouts & Enemies
Main Groups
Rivals and Offshoots